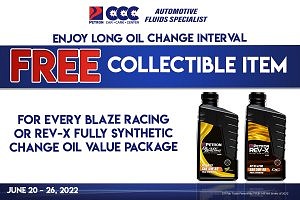 Promo Mechanics:
Promo Period is from June 20 – 26, 2022.
For every Blaze Racing or Rev-X Synthetic Blend or Fully Synthetic Change Oil Value Package,
customer will get one (1) free collectible item.
List of Change Oil Value Packages:
• Blaze Racing HTP Fully Synthetic
• Blaze Racing Fully Synthetic
• Rev-X Turbo HTP Fully Synthetic
• Rev-X Fully Synthetic
Promo is open to four-wheeled vehicle customers only.
Promo is valid only at participating Petron CCC.
Customer to present valid ID and sign the promo monitoring form.
Same site redemption only.
Free item can be redeemed up to 60 days after the promo period, provided that the transaction is done during the promo period.
Valid for cash or other modes of payment available in the participating CCCs.
Free collectible items are not convertible to cash.
Promo cannot be availed in conjunction with other promos and discounts.
Petron reserves the right to refuse awarding of free items to transactions that are invalid and fraudulent such as but not limited to system glitch or collusion.
By participating in this promo, all participants and winners grant Petron Corporation permission to use and disclose personal information and photographs in connection with this promotion for marketing purposes and waive any claims to royalty, right, or remuneration for such use on TV, Radio, Petron website, or Official Petron Social Network pages.
For a list of participating Petron Stations click HERE
Per DTI Fair Trade Permit No. FTEB-145164 Series of 2022