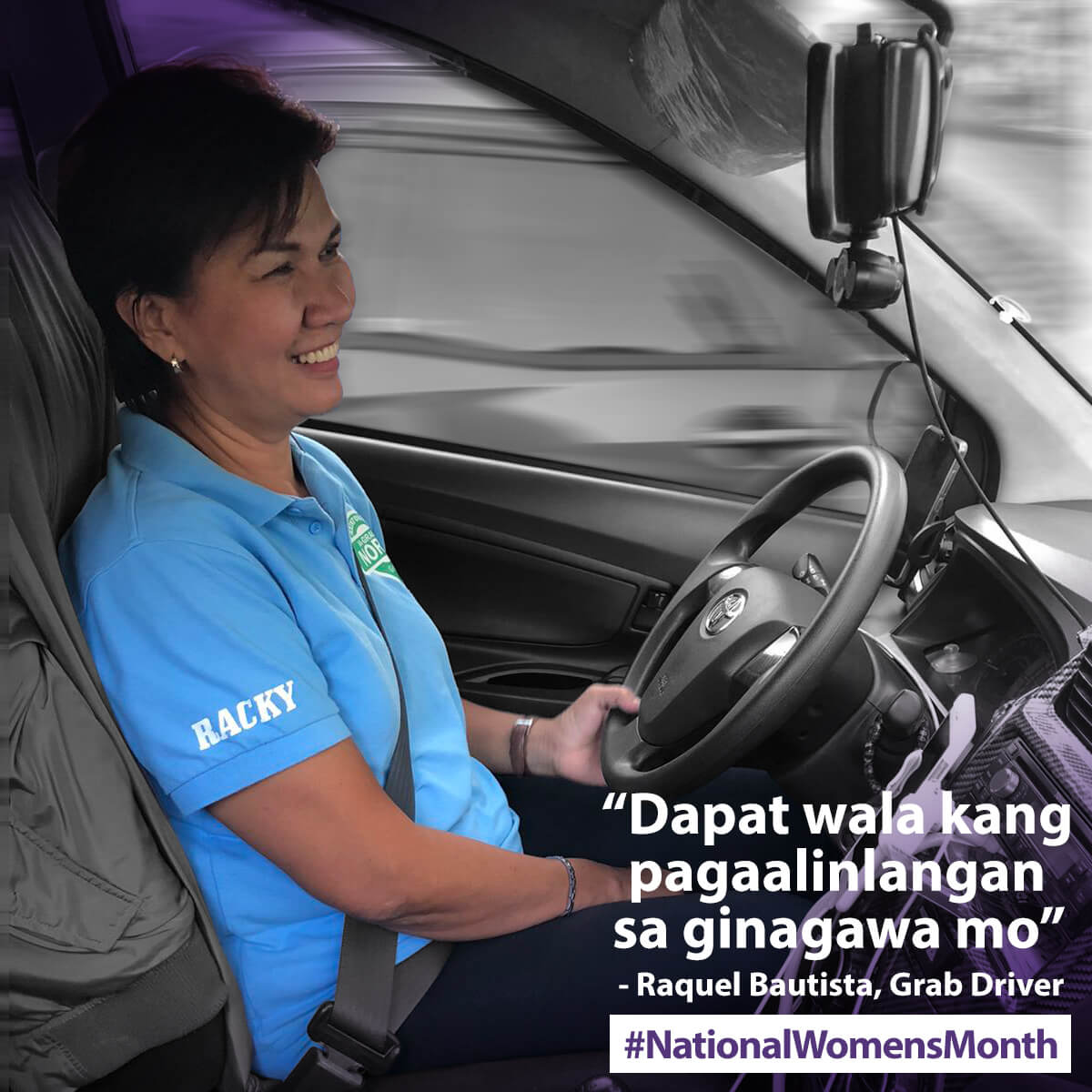 Raquel is a single mother of 5 who started with Grab last June 2018. Prior to that, she worked as a driver and a dispatcher at a hotel in Makati for five years. Raquel has gone through a lot of jobs, working as a saleslady and a cashier in a grocery chain, a teacher's aid in a school, and a company secretary.  She shared, "I really didn't expect that I would end up in this profession and yet here I am."
Raquel shared that there are days when it's hard to manage their finances given the situation nowadays. "Hindi sa lahat ng oras malakas ang biyahe. Kalaban rin natin yung traffic pero sa akin naman, since driver ka, given na yan kaya enjoy mo nalang yung traffic. Wala na ako magagawa dyan. That's our profession saka lilipas din yan."  (It's not an assurance that work is always good. There is also the hindrance of traffic, but for me, since you're a driver, that's already a given so just enjoy the traffic. You can't do anything about it anyway. That's you're profession and things will just pass).
When asked to share about her driving experience, Raquel mentioned that some of her passengers are shocked to see a lady driver, which tells you that it's very rare to see a woman in this profession. She adds that it's quite rare for women like her to be full-time Grab drivers since most lady drivers are only driving as a sideline. "Nung unang sabak ko sa Grab, natatakot talaga ako especially sa mga makikitid na lugar. Pero ngayon okay na malakas na ang loob ko. If something happens to me, destiny nalang talaga yan." (When I first started out with Grab, I was really scared especially if I'm navigating through narrow roads. But now I'm okay I'm no longer afraid. If something happens to me, that's my destiny).
According to Raquel, her youngest son has actually urged her to try out other businesses, since she is already 49 years old, but she protested that it's a misconception that her body can't handle the pressures of driving. "As long as capable ako na mag-drive, gagawin ko. Thankful lang ako na walang discrimination yung Grab sa mga drivers nila," she adds. (My youngest son has actually urged me to try out other businesses, since he said I'm 49 now and my body can't handle the pressures of driving but I disagree. As long as I'm capable of driving, I will. I'm just thankful that there's no discrimination with Grab when it comes to the gender of their drivers.)
This Grab driver also shares her woes when it comes to handling passenger. "Minsan, hindi mo talaga maiiwasan na mga mga pasaway na pasahero. Minsan magka-cancel pa sila ng biglaan kahit na ang layo na ng biyahe mo saka ang traffic pa. Mhirap talaga." (Sometimes you really can't avoid passengers that are "pasaway". Sometimes, you drive so long and it's very traffic then suddenly your passenger cancels. It's really tough.). However, these hardships don't discourage Raquel since she would go as far as Cavite just so she can ensure that her passengers get home safe and unscathed.
Raquel's message for the women out there who are also striving for your families: "If you believe that you are capable, I am encouraging you. Kung may determinasyon ka, go, push mo yan. Dapat wala kang pag-aalinlangan sa ginagawa mo. Hindi ako nagdalawang-isip. Pinanindigan mo, at kung gagawa ka ng isang bagay, huwag kag mag-alinlangan."