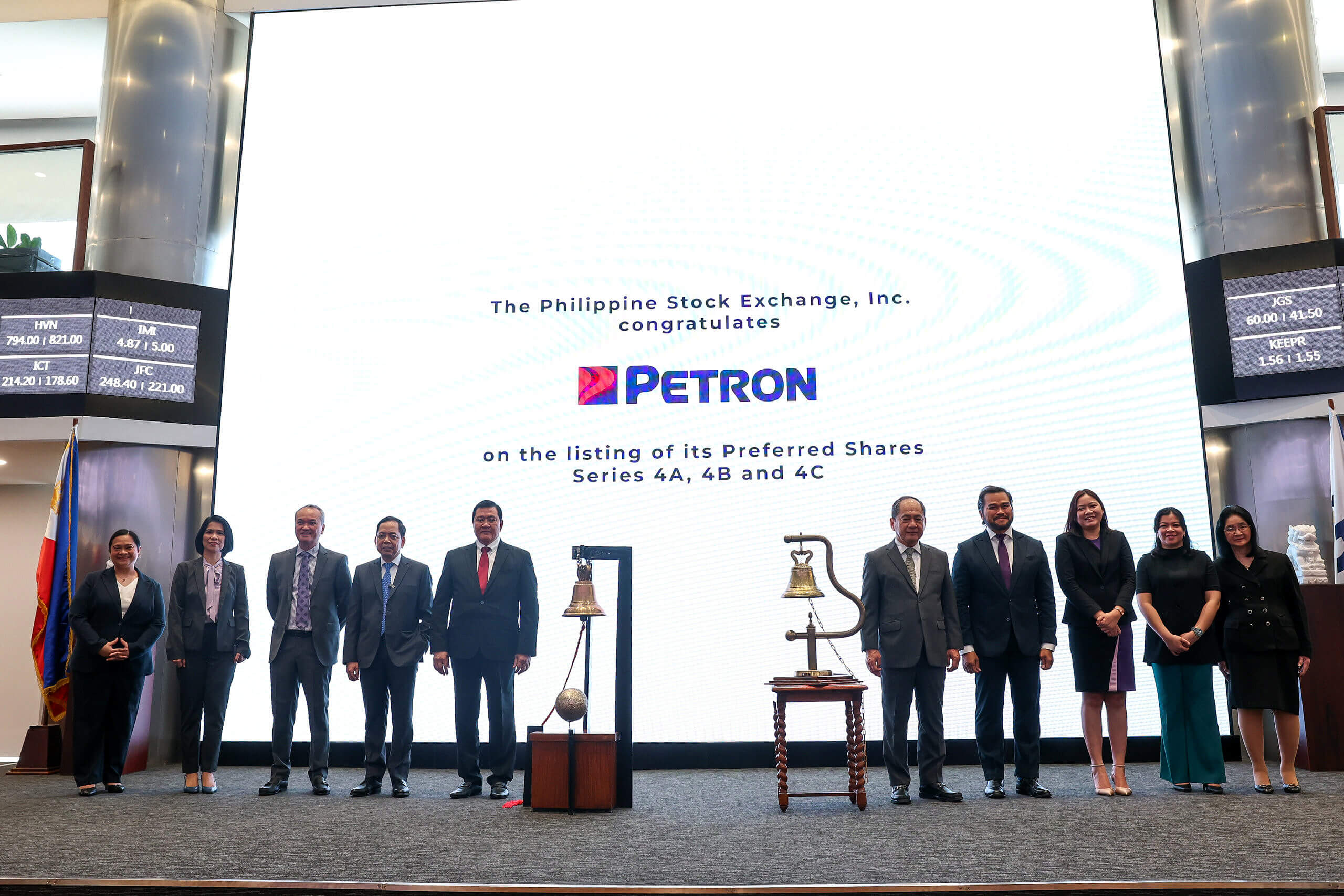 Petron and PSE management during the official listing ceremony on July 7 (from left) Petron General Counsel, Corporate Secretary and Compliance Officer Atty. Jhoanna Jasmine Elacio; Petron Vice President and Controller Myrna Geronimo; Petron Deputy CFO and Treasurer Albert Sarte; Petron SVP and CFO Emmanuel Eraña; Petron General Manager Lubin Nepomuceno; PSE President and CEO Ramon Monzon; Members of the PSE Management Committee Attys. Roel Refran, Marigel Garcia; Veronica Del Rosario, and Securities Clearing Corporation of the Philippines (SCCP) COO Renee Rubio
Industry leader Petron Corporation (PCOR) listed today, July 7, P14 billion worth of preferred shares at the Philippine Stock Exchange (PSE).
The initial base offer of P12.5 billion was oversubscribed by P1.5 billion affirming the positive and continued support of institutional and retail investors for Petron.
Dividend rates per annum on the preferred shares are: 6.7079% p.a. for Series 4A, 6.7972% p.a. for Series 4B, and 7.0861% p.a. for Series 4C. The company's preferred shares were publicly offered from June 15 to June 27, 2023.
"We're grateful and at the same time, humbled by the strong response of the investment community. Results such as this move us to pursue projects that will ensure our growth and sustainability in the long haul," said Petron President and CEO Ramon S. Ang.
In an earlier disclosure, the company announced that the amount raised will be used to redeem Petron's Senior Perpetual Capital Securities issued in 2018.
Petron has partnered with China Bank Capital Corporation as sole issue manager, and Bank of Commerce, China Bank Capital Corporation, Philippine Commercial Capital, Inc., PNB Capital and Investment Corporation, and SB Capital Investment Corporation as joint lead underwriters and joint bookrunners. It also partnered with First Metro Investment Corporation to be its selling agent. (30)
About Petron Corporation
Petron Corporation is the largest oil company in the Philippines and the only one with a refinery. Also a leading player in Malaysia, Petron has a combined refining capacity of 268,000 barrels-per-day and produces a full range of world-class fuels and petrochemicals. It operates about 50 terminals in the region and has around 2,700 service stations where it retails world-class gasoline and diesel. Petron is dedicated and passionate about its vision to be the leading provider of total customer solutions in the energy sector and its derivative businesses. Please visit us at www.petron.com for more information.