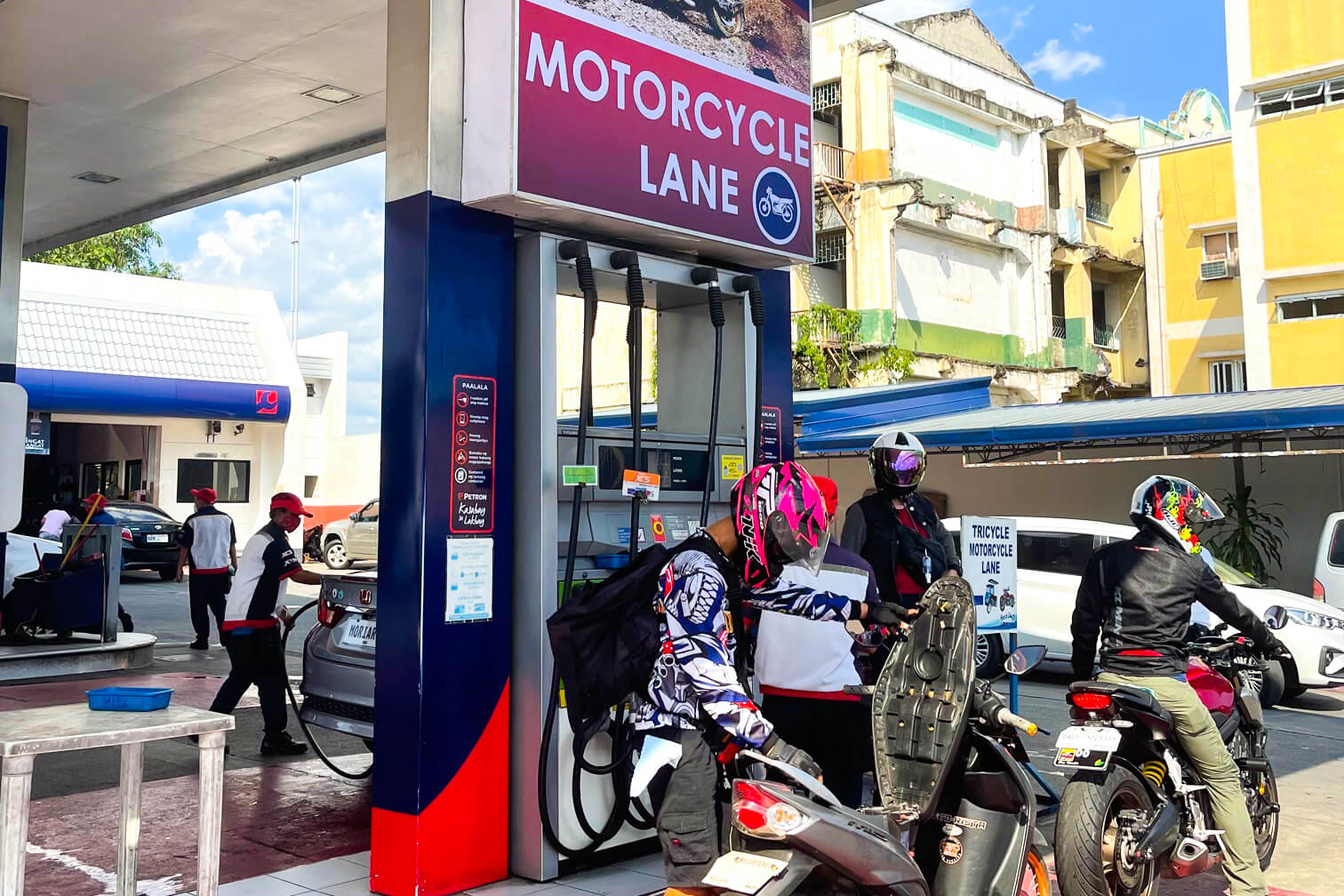 Understanding the unique needs of the growing number of two-wheeled motorists, oil industry leader PETRON Corporation is designating an exclusive Motorcycle Lane at select Petron service stations. 
The exclusive motorcycle lane, which also accommodates tricycles, ensures the safety of customers by segregating smaller vehicles from 4-wheel and other large vehicles while providing convenience through faster transactions. This also avoids "line-cutting" — a common source of misunderstanding and arguments among customers.
Implementation started last April 15 at 135 Petron stations in Metro Manila, Baguio City, Olongapo City, as well as the Northern Luzon provinces of Apayao, Bataan, Benguet, Bulacan, Cagayan, Ilocos Norte, Ilocos Sur, Isabela, Kalinga, La Union, Nueva Ecija, Pampanga, Pangasinan, Tarlac, and Zambales. Select Petron stations in the South Luzon, particularly Batangas, Cavite, Laguna, and Quezon provinces have also implemented the program.
The exclusive motorcycle lane program will continue to roll out to other Petron stations in Luzon and Vismin in the coming months, to offer the millions of Filipino motorcycle riders safer, faster, and more convenient service.
As the country's largest oil company and lone refiner, PETRON has a deep understanding of driving conditions on Philippine roads, offering products and services that will deliver optimum benefits to Filipino motorists.  For 2-wheel vehicles, Petron SPRINT 4T motorcycle oils are specially formulated with a Thermal Control System (TCS) additive to deliver a cooler, smoother ride while ensuring sustained power and protecting the engine. Petron SPRINT 4T has been subjected to international laboratory testing and passed world-class benchmarks. Additionally, it was performance-tested for over 10,000-kilometers during a four-month period by local riders to validate its superior qualities.
Similarly, Petron fuels deliver better engine protection, better fuel efficiency, and better power. Motorcycle riders can choose from Petron BLAZE 100, a 100-octane high-performance gasoline that meets European quality standards; Petron XCS premium gasoline with complete combustion system; and Petron XTRA ADVANCE for proven fuel efficiency.
As the industry leader, Petron appreciates the staunch support of Filipino motorists. In particular, it recognizes the fast-growing motorcycle community and is continuously developing products and services that are responsive to their needs.