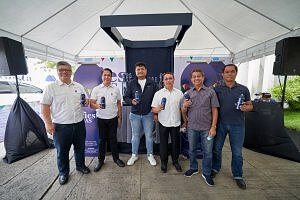 (Cebu City, Philippines) – In support of government efforts to discourage the use of illegally-refilled butane canisters, industry leader Petron Corporation has unveiled its new Fiesta Gas 170-gram in refillable cylinders, initially available in Cebu.
The packaging is made of seamless aluminum alloy, allowing it to withstand high pressure in line with Philippine National Standards (PNS). The Fiesta Gas 170-gram in refillable cylinders is safe, reliable, and easily compatible with portable stoves and grillers.
A simple ceremony was held on September 16 at the Petron service station along B. Rodriguez, Cebu City to officially launch the new Fiesta variant. In attendance were representatives from the DOE-Visayas Field Office: Atty. Russ Mark Gamallo (DOE-VFO Director) and Engr. Octavio Belarmino (Senior Research Specialist); representatives from the DOE-Retail Market Monitoring and Special Concerns Division Engr. Alex Rayos (Supervising Research Specialist) and Engr. Robert Cardinales (Senior Research Specialist); and from Petron Corporation  Virgilio Centeno (Vice President for Industrial Sales) and Andrew Tan (LPG Business National Sales Manager), along with other Petron officials and dealers.
"Our new Fiesta Gas 170-gram in refillable cylinders allows the vast majority of Filipino consumers to get their hands on quality yet affordable LPG product from a brand they can trust. As the industry leader, Petron is committed to helping the DOE address the proliferation of butane canisters that are illegally refilled with LPG by introducing a better and safer alternative in the market," Centeno said.
According to Centeno, the company is primarily focusing its efforts in Visayas and soon in Mindanao where single-use butane canisters that are illegally refilled with LPG is quite common. DOE strongly advises against this kind of product which is prone to leaks and can trigger accidental combustion, potentially harming users. Cebu, in particular, has recorded an alarming number of fire incidents resulting from the backyard or illegal refilling of butane canisters.
The DOE continues to intensify its campaign against illegal refillers in the region to ensure the safety of consumers. "We appeal to the public to stop using illegally refilled butane canisters and prioritize their safety. As we've reiterated in the past, these do not comply with the DTI or BFP standards on safety and quality, making them extremely dangerous. We welcome the entry of Petron in the small refillable LPG cylinders category and hope that this will result in more LPG users choosing the safer and government-compliant option,'' said Director Rino Abad of the DOE-Oil Industry Management Bureau.
In 2021, the LPG Law which aims to strengthen consumer protection, among others, in the LPG sector was enacted. Petron actively supported the passage of this law, taking the lead in ensuring that consumers are provided with LPG products that meet government standards.
Centeno also stressed the importance of sourcing only from authorized dealers and retailers. "As with any LPG product, safety should always be the main consideration. Small refillable LPG cylinders warrant stringent safety standards, and the only way this can be guaranteed is if a product is legally refilled and purchased from legitimate sellers," he said.
Through this latest offering from the country's largest oil company, charcoal and firewood users, who are similarly exposed to health hazards, will be that much safer, while current LPG users now have a more convenient and budget-friendly cooking fuel option.
The Fiesta Gas 170-gram in refillable cylinder is initially available in Cebu through Petron's network of LPG dealer stores and service stations. For more details, please visit the official Fiesta Gas Facebook page at www.facebook.com/FiestaGasOfficial. (30)
About Petron Corporation
Petron Corporation is the largest oil refining and marketing company in the Philippines and is a leading player in the Malaysian market. It has a combined refining capacity of 268,000 barrels per day and produces a full range of world-class fuels and petrochemicals. It operates about 50 terminals in the region and has around 2,700 service stations where it retails world-class gasoline and diesel. Petron is dedicated and passionate about its vision to be the leading provider of total customer solutions in the energy sector and its derivative businesses. Please visit us at www.petron.com for more information.