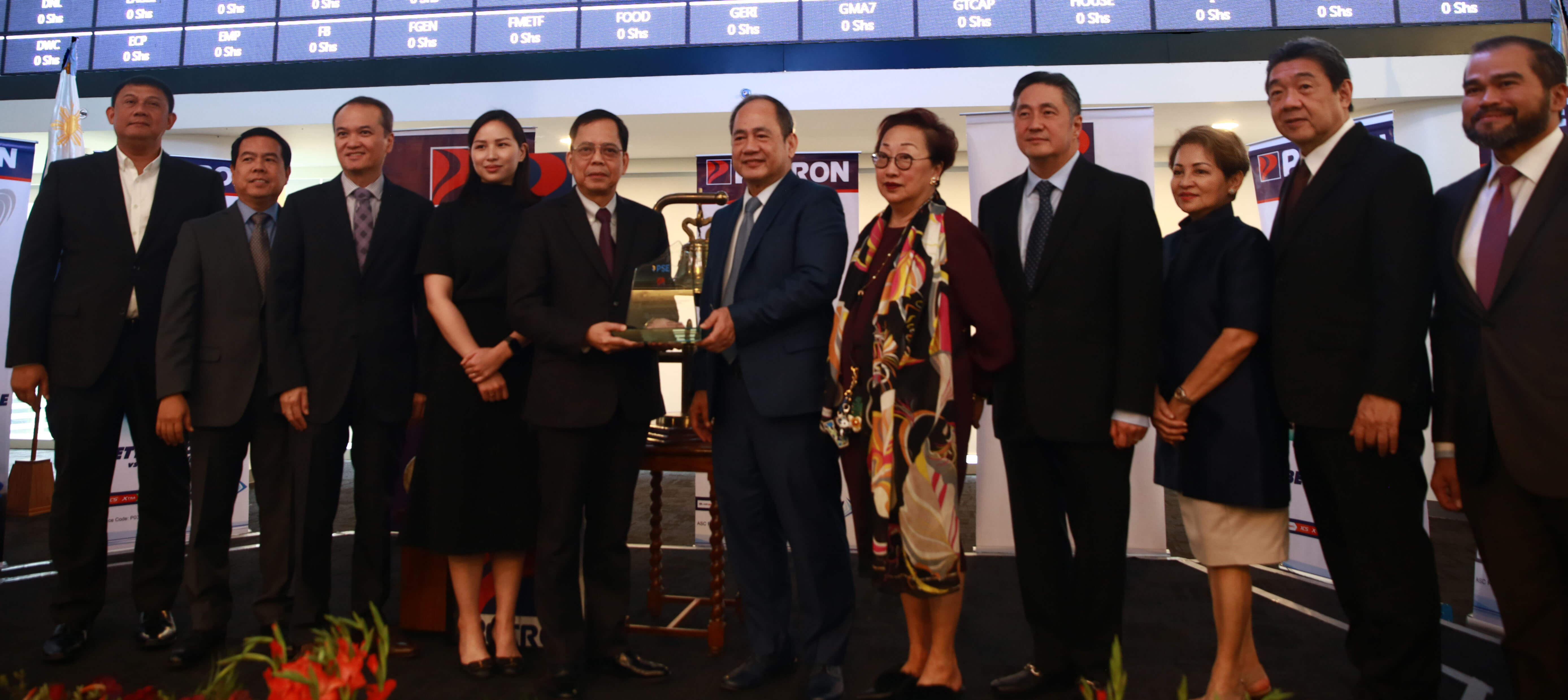 Shown in photo (from left) PCOR VP for National Sales Archie B. Gupalor; PCOR VP General Counsel and Corporate Secretary Atty. Joel Angelo C. Cruz; PCOR VP and Treasurer Mr. Albert S. Sarte; PCOR AVP for Procurement Ms. Jacqueline L. Ang-Chai; PCOR SVP and Chief Finance Officer Mr. Emmanuel E. Eraña; PSE President and CEO Mr. Ramon S. Monzon; PSE Directors Ms. Ma. Vivian Yuchengco; Mr. Roberto Cecilio O. Lim; Ms. Amor C. Iliscupidez; Mr. Wilson L. Sy; and PSE Chief Operating Officer Mr. Roel A. Refran.
The country's largest oil refining and marketing company, Petron Corporation (PCOR) marked its silver listing anniversary at the Philippine Stock Exchange (PSE) last September 18.
Present during the celebration were Petron officers led by SVP and Chief Finance Officer Mr. Emmanuel E. Eraña and PSE officials headed by PSE President and CEO Mr. Ramon S. Monzon.
Mr. Eraña delivered a brief message before the opening bell ceremonies, noting on Petron's immense growth as well as its ability to weather industry challenges owing to its 86-year history.
"Looking back, it makes us proud to say that we have definitely come a long way since our IPO 25 years ago. The industry situation right now remains challenging. Being a homegrown refiner, we must contend with external factors beyond our control like oil supply disruption and volatile prices. Thankfully, our experience over the past 86 years has made us more resilient and confident to overcome these challenges," he said.
Petron had its Initial Public Offering (IPO) launch on September 7, 1994, same year that it was privatized. Petron's IPO was known as the "mother of all IPOs," attracting 500,000 shareholders. In 2009, it was acquired by San Miguel Corporation, the country's largest conglomerate, giving birth to major expansions, upgrades, and acquisitions. At present, Petron supplies nearly 40 percent of the Philippines' petroleum requirements through its modern refinery in the Bataan, 30 terminals, and over 2,400 stations nationwide. It also operates in Malaysia, where it is now one of the leading players.