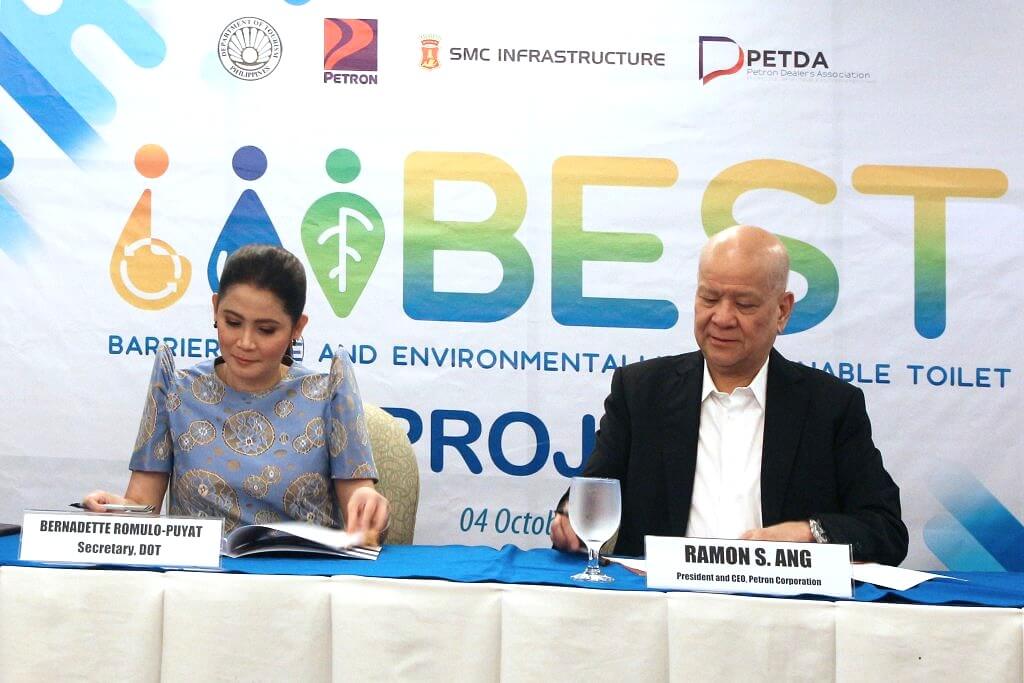 The Department of Tourism (DOT) partners with industry leader Petron Corporation for the BEST (Barrier-Free and Environmentally Sustainable Toilet) Project, an initiative that aims to ensure the quality of restrooms in establishments near tourist destinations in line with the ASEAN Public Toilet Standard.
DOT Secretary Bernadette Romulo-Puyat and San Miguel Corporation President and COO Ramon S. Ang led the signing of the Memorandum of Understanding (MOU) held at the San Miguel Corporation Head Office in Mandaluyong today.
In her message to the stakeholders present, Secretary Puyat said, "Travelling by land, especially hitting the road for the long-drive, literally epitomizes the very essence of tourism. And, it is in this travel experience where local and international tourists must readily find the convenience and comfort of using facilities on the road– that iconic movie scene of stopping at the filling station and going for a bathroom run. As part of our commitment to providing the Filipino brand of service, it is the goal of this DOT-Petron joint project to make available public restrooms that meet international standards at Petron gas stations nationwide, ensuring quality, comfort, safety and proper waste management of public toilets along the way to our tourist destinations".
In turn, Mr. Ang said this is a testament to Petron's promise to satisfy their customers' fuel needs and more. "Customer service excellence is an indispensable part of the Petron culture. As an industry leader, we are committed to giving our customers the best experience whether in terms of quality products, personalized customer service, or safe and clean facilities. We thank the DOT for trusting us to be their lead partner, and for giving us the opportunity to create a positive impact on the tourism industry," he said.
Under the partnership, some 200 Petron stations will undergo an accreditation process where in each one will be assessed based on the following: design and environmental management system, amenities and facilities, cleanliness, and safety. Accredited stations will be marked with the DOT Seal of Approval, similar to a "Good Housekeeping" seal.
DOT representatives are set to initially visit Petron's tollway stations in SLEX, Star Toll and TPLEX. A number of these stations have already qualified for a DOT Approval Seal as they were deemed compliant with the ASEAN Public Toilet Standard.
The BEST Project complements Petron's long-time efforts to keep comfort rooms clean, safe and well-maintained. The homegrown oil giant has over 2,400 service stations in the country with each one committed to offering only world-class products and personalized customer service that goes the extra mile.
As a true champion of customer service, Petron was the first to open a one-stop mega station on a major thoroughfare, the first to have a convenience store at a service station, and the first to offer Euro 6 fuel in the market, among other customer-oriented products and services.
Also present in the signing ceremonies are San Miguel Corporation Senior Vice President and San Miguel Holdings Corporation (SMHC) Head Atty. Lorenzo G. Formoso III; SMHC Chief Financial Officer Raoul Eduardo C. Romulo; Petron Dealers Association (PETDA) President Victor T. Rebosura, and Petron VP for Retail Sales Archie B. Gupalor.