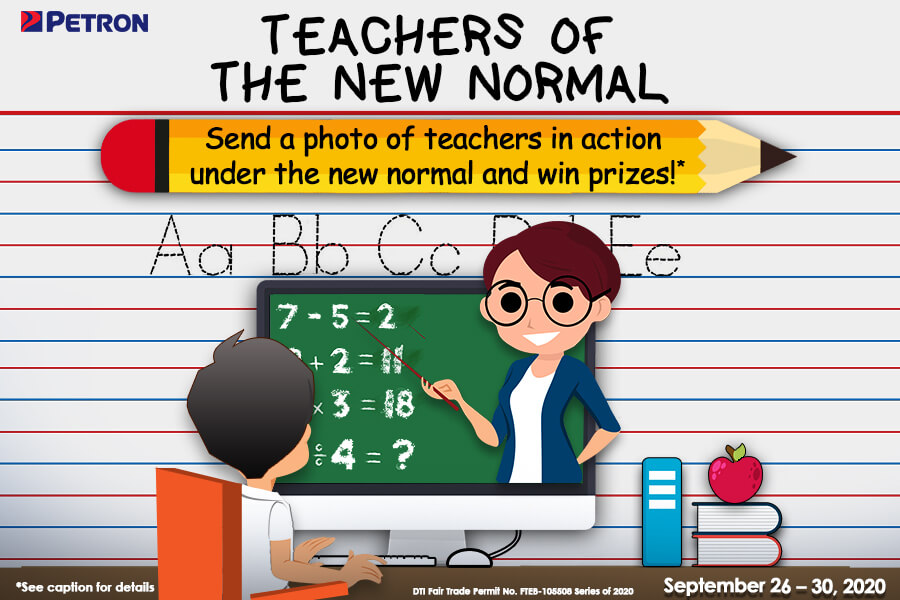 PROMO MECHANICS: 
Participants may send an original or personally taken photo honoring teachers in action under the new normal. The teacher should be included in the photo entry and should have a caption of not more than 20 words.

Format accepted:  .JPEG / .PNG / .JPG
File Size: Maximum 5 MB

Promo is open to all Filipinos aged 18 years old and above.
Open to Petron Value Card (PVC) and non-PVC users.
Participants should be residing in the Philippines.
Participants must register their complete name, complete home address, contact number, email address, birthday, and name of the teacher in the Petron microsite https://onlinepromo.petron.com/ 
Participants to upload a photo of the teacher in action under the new normal. 
Participant and teacher cannot be the same person. 
Participants/sender of photos should have gained the permission of the teacher prior submission. All related concerns on the photo shall be the responsibility and liability of the sender.
After registration, participants will receive an email confirmation including the raffle entry reference number.
Winning teacher will receive a Samsung Galaxy Tab A 8.0 and the winning participant will receive a Xiaomi Mi Router 4A Gigabit.
Petron will randomly pick 10 winners (with their corresponding teachers) via electronic raffle on October 1, 2020 10:00AM supervised by a DTI representative.
Schedule of submission of entries up to announcement of winners as follows:

Start of Entries Submission: 00:01 AM September 26, 2020
Deadline of Entries Submission: 11:59 PM September 30, 2020
Selection of Winners 10:00 AM October 1, 2020
Announcement of Winners: 8:00 AM October 5, 2020

Entries sent after the cut-off date and time will not be included in the electronic raffle.
Participants and teachers can only win once.
Multiple entries from the same participant will not be allowed.
Participants are only allowed up to one (1) entry.
Photo with caption of the winners will be posted in Petron social media accounts.
Winners will be notified via phone call and registered mail.
Winning participants of the photo entry will be required to send the email confirmation of entry and scanned copy of a valid government ID while winning teachers will be required to send scanned copies of their Professional Regulation Commission (PRC) and school IDs together with complete mailing address through email within 60 days to promotionsTMPD@petron.com to commence claiming process of prizes.
Prizes will be sent to registered address, free of charge.
Prizes are transferable but not convertible to cash.
Unclaimed prizes until 60 days from receipt of notification will be forfeited by Petron with prior approval from DTI.
Employees of Petron and their advertising agencies, including relatives up to second degree of consanguinity or affinity are disqualified from joining the promotion.
Petron reserves the right to refuse the awarding of prizes to entries that are proven to be invalid/fraudulent such as but not limited to system glitch, abuse of system.
Per DTI Fair Trade Permit No. FTEB-105508 Series of 2020