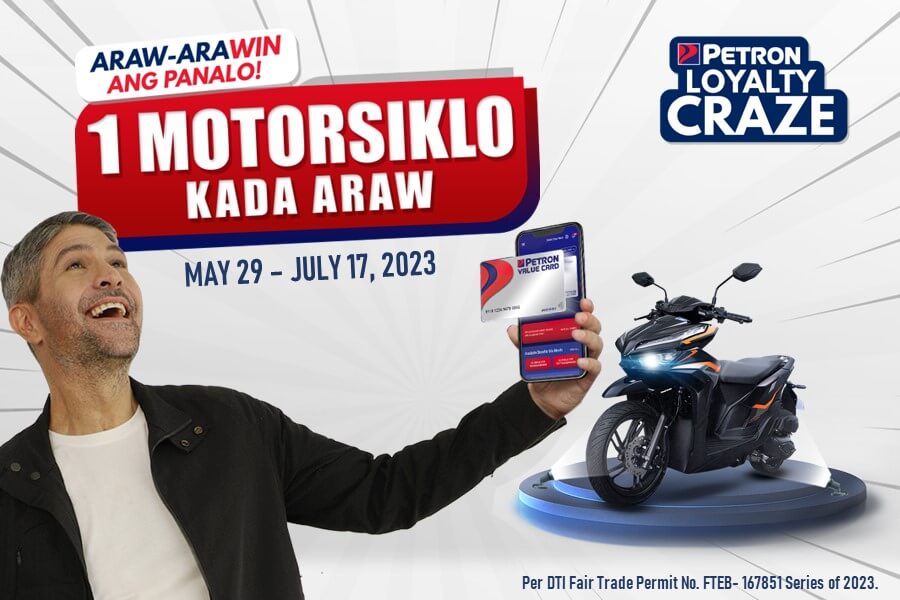 PROMO MECHANICS:
Promo period is from May 29 to July 17, 2023.
Petron Loyalty customer to earn e-raffle entry/ies for every single receipt transaction from participating Service Stations.
a. 2x e-raffle entries for loyalty customers with registered Petron Value Card (PVC) Mobile App.
b. 1x e-raffle entry for loyalty customers without registered PVC Mobile App.
All Petron service station products (Fuels, Lubricants, and LPG) are included in the promo with no minimum purchase required.
Unique e-raffle entry will be sent to the customer via SMS to the loyalty customer's registered mobile number.
Loyalty customers with registered PVC Mobile App can track all his/her earned e-raffle entries in the PVC Mobile App by clicking the e-raffle tracker badge found in the mobile app's dashboard.
Below are the promo prizes to be given away:
Click or follow www.petron.com/latest-promotions for complete list of participating Petron service stations.
Loyalty customers who did not received its unique e-raffle entry should scan QR code found in the receipt to update his/her contact details (mobile number, email address, complete mailing address) to ensure eligibility in promo participation.
Newly registered Petron Loyalty Card/customers should wait for the card activation message before proceeding with a transaction to join the promo.
Petron Loyalty customer will get a weekly chance to win a motorcycle. Breakdown will be as follows:
Petron Value Card terminal downtime will still generate Loyalty customer's e-raffle entry/ies. Succeeding SMS with the unique e-raffle entry will be automatically sent once system is back online.
Valid entries are single receipt transactions from May 29, 2023 12:01AM to July 17, 2023 11:59PM only.
Weekly raffle draw will take place via MS Teams in the presence of a DTI representative every Tuesday at 2PM starting June 6, 2023. Loyalty customers' e-raffle entries are cumulative wherein non-winning entries will be added to the next draw date. A total of four (4) Million worth motorcycle will be given away.
Each winner can only win once for the entire promo.
Motorcycles are non-transferrable and not convertible to cash.
Petron Loyalty customers with incomplete PVC registration details (i.e., mobile number, complete mailing address, email address) shall be disqualified.
Raffle draw winners will be subject for verification. Winners shall be notified via phone call, and through registered mail if unreachable through the registered mobile number.
Winners will be required to email a photo of their valid government ID together with the Petron Value Card as proof of identity. Required documents to be emailed at raffles@petron.com with a subject header of: "(Last Name)space(Given Name)". Invalid or incomplete supporting documents shall be disqualified.
Announcement of winners will be done prior to the verification of winners. Verification of the winners' details will be administered via phone calls. Verification calls and text messages will be implemented over a period of 3 consecutive working days, thrice (3x) per day. If the winner does not respond to any of these calls, she/he forfeits the prize, and a new winner will be drawn. The same verification process will be conducted for the new winner.
Prizes should be claimed within sixty (60) days from the receipt of registered notice, or it will be forfeited in favor of Petron Corporation with prior approval of DTI.
Petron Corporation will announce the winners every Wednesday between 6PM to 8PM thru its official social media pages starting June 20, 2023, with the final announcement of winners on August 1, 2023.
Prize tax will be shouldered by Petron Corporation.
Promo is valid for cash, Petron E-Fuel, credit card and PVC points redemption transactions only.
Promo is not applicable to PO, bulk, and fleet accounts.
Promo is applicable for fuel loaded to vehicle tank only. Containers are not allowed.
By participating in this Petron promo, all winner/s and participants grants Petron Corporation permission to use and disclose personal information and photographs in connection with this promotion for marketing purposes and waive any claims to royalty, right, or remuneration for such use on TV, Radio, Petron Website, or official Petron Corporation social media pages.
Petron reserves the right to refuse awarding promo prize/s to transactions that are invalid and fraudulent such as but not limited to system glitch or collusion.
Employees of Petron Corporation, advertising agency and participating stations, including their relatives up to second degree of consanguinity or affinity are disqualified from joining the promo.
For the list of participating Petron stations, click HERE.
Per DTI Fair Trade Permit No. FTEB- 167851 Series of 2023.