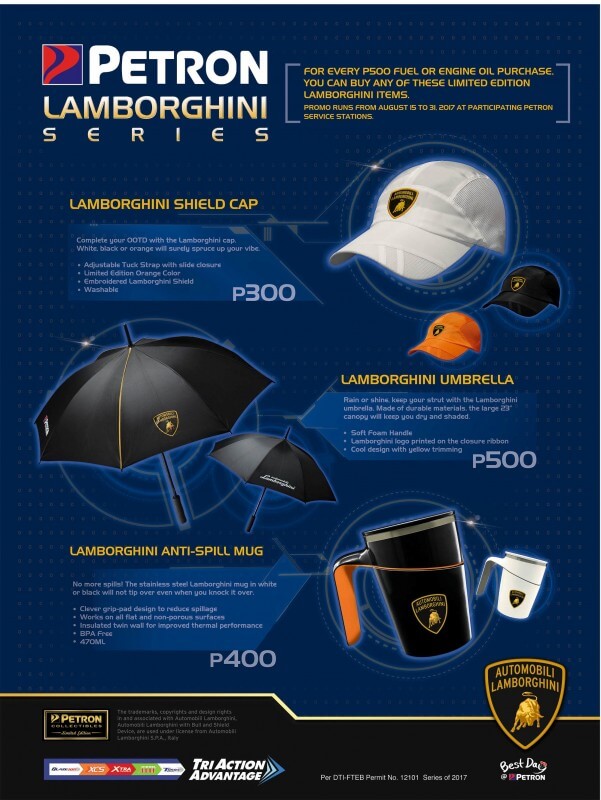 Promo period: August 15 to 31, 2017
Mechanics
For every Php 500 single or accumulated purchase of Petron Blaze 100, Petron XCS, Petron Xtra Advance, Petron Turbo Diesel; Petron Diesel Max; Petron Ultron, Petron Rev X, or Petron Sprint 4T; the customer is entitled to buy one (1) Limited Edition Petron – Lamborghini Item. (P500 fuel/engine oil purchase = 1 Lamborghini Item)
From August 15 to 31, 2017, eligible customers need to present the receipt of the participating products to pump attendant to avail of the promo.
Receipt will be marked "redeemed" at the back. If a receipt has been redeemed for the promo, any excess amount in the receipt shall be void and will not be used for the next redemption.
Petron- Lamborghini Items include the following:
Cap (Black / White / Orange)=  Php 300
Anti – Spill Mug (Black / White)= Php 400
Umbrella (Black)= Php 500
Petron-Lamborghini items can only be bought from the participating Petron station where the customer loaded fuel or bought engine oil (same-site redemption only).
Lost or damaged original receipts will not be replaced or honored.
Promotion is valid for cash and credit transactions. Bulk, P.O. and wholesale transactions are also qualified to participate in the promo.
Promo runs from August 15 to 31, 2017. Only receipts within this promo period are valid for redemption.
Redemption period using valid receipts is until sixty (60) days from the end of promo period only.
Click here to view list of participating Petron service stations.