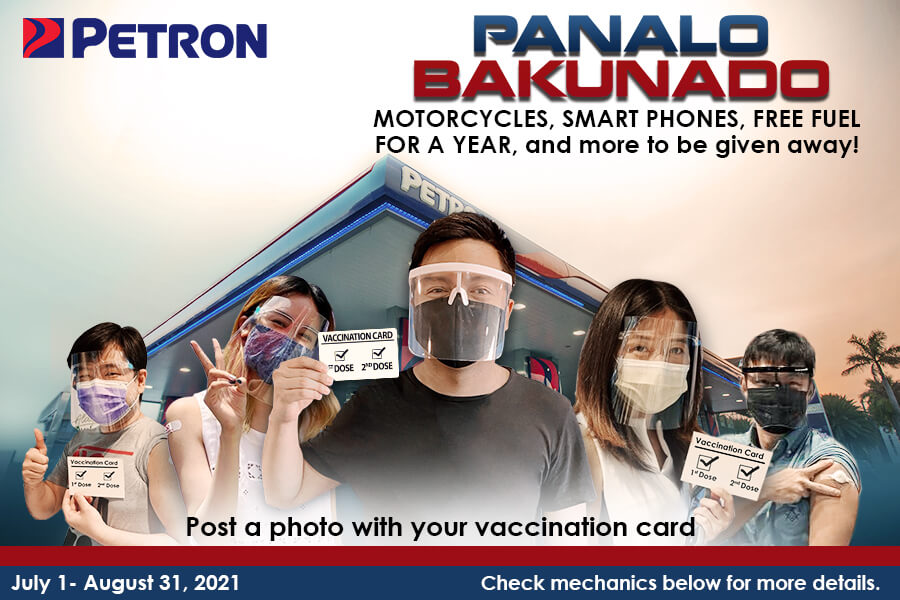 PROMO MECHANICS:
1.All Loyalty Cardholders can get a chance to win a MOTORCYCLE, SMART PHONE, OR FREE FUEL by registering their cardholder details via the Petron promo microsite. Click HERE to register! Registration data required:
Loyalty Card number
Name (First Name / MI / Family Name)
Birthday (mm/dd/yyyy)
Mobile number
Home address
2. Customer must upload a photo with their Vaccination Card HERE:
3. Promo is applicable to all registered Petron Loyalty Card – Petron Value Card (PVC) and Super Driver Card (SDC) holders with updated mobile numbers only. 
4. Customer can only register for the promo once. 
5. Each winner can only win once for the promo. In case a name is drawn more than once, they get the price of higher value. 
6. Raffle prizes:
| | |
| --- | --- |
| ITEM | QUANTITY |
| Motorcycle | 5 |
| Fuel for a year (maximum P60,000) | 5 |
| Samsung S21 | 5 |
| Gasul for year (maximum 12 Gasul refills)  | 10 |
| Lubes for a year (maximum P5,000) | 10 |
| eFuel worth P1,000 | 100 |
7. Valid raffle enty will be coming from the promo registration from July 1, 2021 (12:01AM) to August 31, 2021 (11:59PM) only. 
8. Qualified customers will receive and SMS notification with their raffle reference number as proof of promo entry via their Petron Loyalty Card's updated registered number. 
9. Drawing of winners will be scheduled on September 6, 2021 via Zoom with a DTI representative. Winners shall be notified via registered mail. 
10. Prizes will be delivered to the winners in the form of a prize certificate before September 30, 2021. Winner must claim their prize at the local Motorcycle dealer within 90 days from receipt of the prize certificate.
11. 20% tax for prizes exceeding P10,000 will be handled by Petron Corporation.
12. Registration and other related expenses on the motorcycle prizes are not included. 
13. Prizes are transferable but not convertible to cash. 
14. By participating in this promo, all participants and winners grant Petron Corporation permission to use and disclose personal information and photographs in connection with this promotion for marketing purposes and waive any claims to royalty, right, or remuneration for such use on TV, Radio, Petron website, or official Petron social networking sites.
15. Petron reserves the right to refuse awarding of free item to transactions that are invalid and fraudulent such as but not limited to system glitch or collusion. 
16. Employees of Petron Corporation, its advertising agencies and participating stations, including their relatives up to the second degree of consanguinity or affinity are disqualified from joining the promo. 
Per DTI Fair Trade Permit No. FTEB-122177, Series of 2021