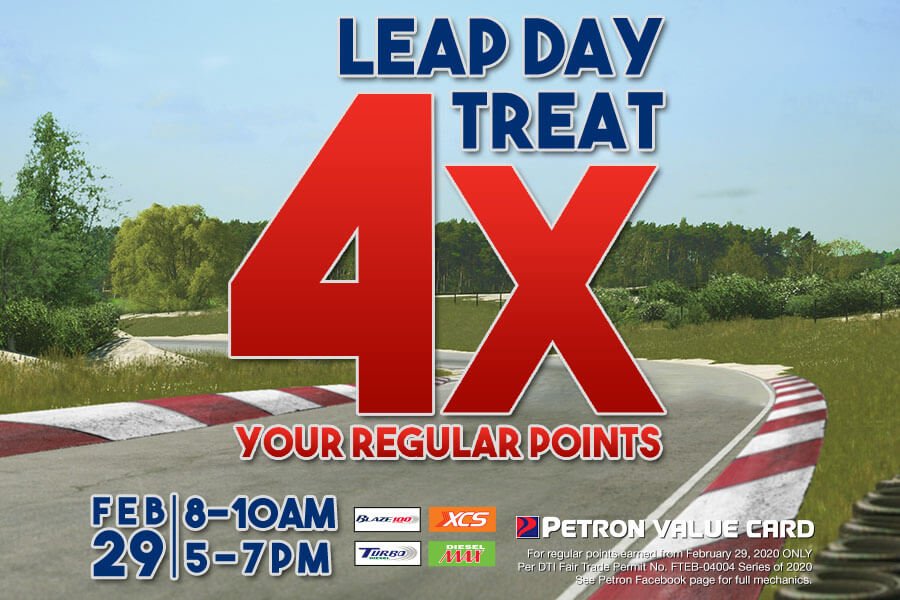 PROMO MECHANICS: 
1. Customers purchasing any of the Petron fuels (Blaze 100, XCS, Petron Turbo Diesel and Diesel Max) between 8:00am to 10:00am and 5:00pm to 7:00pm, they will be awarded 4 times their regular PMILES/ PVC points earned during the transaction.
2. Promo is on February 29, 2020 only.
3. Promo is applicable to Registered PMILES and Petron Value Card (PVC) holders only.
4. Promo is valid only at participating Petron stations nationwide. Click HERE for the list of participating Petron stations. 
5. Valid for cash, credit card, and Petron e-fuel transactions.
6. No registered PMILES / PVC, no points.
7. Promo is not applicable to PO, bulk, Petron Fleet accounts, and Super Driver Cards (SDC).
8. Promo is not applicable in conjunction with other existing promos.
Per DTI Fair Trade Permit No. FTEB-04004 Series of 2020.