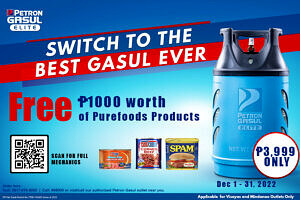 PROMO MECHANICS
The promo period is from December 1 – 31, 2022.
Customers can swap any of their 11kg LPG cylinders for a Petron Gasul Elite 11kg cylinder for a cash-out of only Php3,999 inclusive of the Petron Gasul Elite cylinder deposit and LPG content.
Customers will receive P1,000 worth of Purefoods Products for FREE upon availing of the promo.
The 11kg LPG cylinder to be swapped should be in good condition. It will be subject to physical inspection by an authorized Petron Gasul dealer representative prior to the promo transaction.
The regulator and hose are excluded from the promo.
Customers can avail of a maximum of 2 swapping transactions or 2 Petron Gasul Elite tanks during the promo period.
Promo is open to household customers only.
Promo is available at select authorized Petron Gasul stores or dealers in Visayas and Mindanao.
Promo can be availed via calling the Petron Gasul Express Delivery hotline #88000, sending an SMS at 0917-878-8000, or via walk-in at authorized participating Petron Gasul stores or dealers.
Petron Gasul and its dealers reserve the right to refuse swapping transactions based on the condition of the 11 kg LPG cylinder to be swapped.
Promo cannot be availed in conjunction with other Petron Gasul Elite promos.
For the list of participating Gasul outlets in Visayas and Mindanao, click HERE.
Per DTI Fair Trade Permit No. FTEB – 156383 Series of 2022