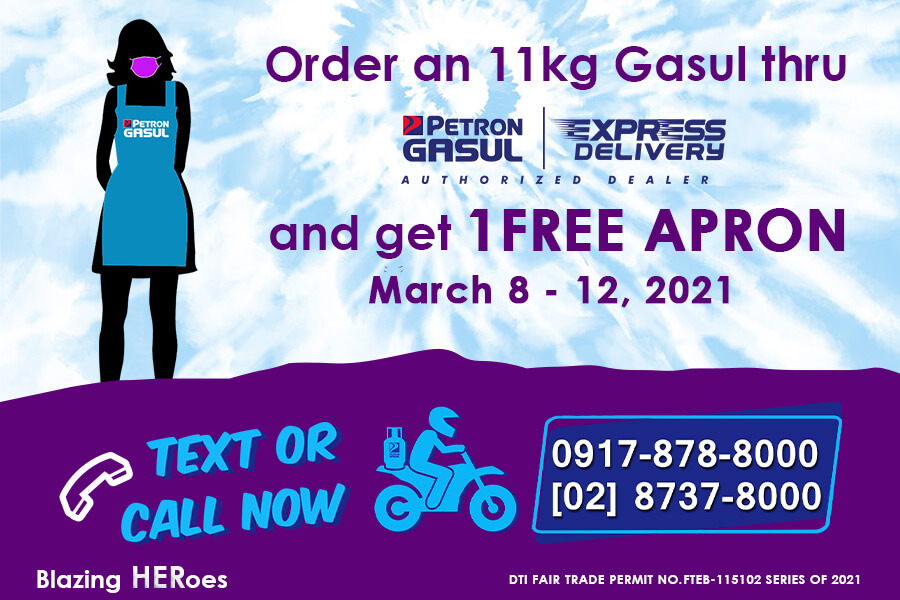 1. From March 15-31, 2021, customers may be eligible to join the 2021 National Women's Month promo based on the following criteria per week:
— GASUL: March 8 to 12, 2021 (Monday to Friday)
a. or a minimum one 11-kg Gasul refill purchase through the Petron Gasul Express Delivery (PGED)  hotline (02) 8737 8000 or 0917- 878- 8000 (SMS only), customer will be awarded one (1) FREE Gasul apron.
b. Promo period is from March 8-12, 2021.
c. Customer can be given a maximum of 3 free items per day only.
d. Promo is valid through participating Petron Gasul Delivery Express hotline (02) 8737-8000 or 0917-878-8000 (SMS) orders only. Click HERE to view the list.
— FUEL: March 22 to 31, 2021 (Monday to Month-end)
a. For a minimum P1,000 single-receipt purchase of any fuel at participating stations between 8AM-5PM, FEMALE DRIVER customers will be awarded one (1) Safety Kit (3 surgical masks with a mask case). 
b. FEMALE Customer can be given a maximum of 3 free items per day only. 
c. Same site redemption only. 
d. Promo is applicable to all FEMALE DRIVERS who are registered Petron Loyalty Cardholders only (Petron Value Card and Super Driver Card). 
e. Promo is valid at participating service stations only.
| | |
| --- | --- |
| CITY | ADDRESS |
| QUEZON CITY | KATIPUNAN AVE. COR. MANGYAN STREET |
| QUEZON CITY | COMMONWEALTH AVE., SOUTH FAIRVIEW |
| QUEZON CITY | NO. 811 QUEZON AVE. (WESTBOUND), BO. STA. CRUZ |
| QUEZON CITY | NO. 66 QUEZON AVE. (EASTBOUND), BMA AVE. TATALON, BRGY. TATALON |
| MANDALUYONG | 8804 EDSA (SOUTHBOUND) COR. CONNECTICUT AVE., WACK-WACK GREENHILLS |
| MANDALUYONG | 535 SHAW BLVD. COR WACK-WACK MANDALUYONG CITY, METRO MANILA |
| MANDALUYONG | EDSA (SOUTHBOUND), NO. 55 SIERRA MADRE ST. |
| PASIG | E. RODRIGUEZ JR. AVE., BO. UGONG |
| TAGUIG | C-5 ROAD, DIEGO SILANG ST. |
| MAKATI | EDSA COR. ARNAIZ AVE., DASMARIÑAS VILLAGE |
| MAKATI | 363 SEN. GIL PUYAT AVE. COR. MAKATI AVE., MAKATI CITY |
| MUNTINLUPA | PACIFIC RIM COR. COMMERCE AVE., FILINVEST, ALABANG |
| PASAY | PRES. DIOSDADO MACAPAGAL BLVD. COR. PASAY CITY, METRO MANILA |
f. All existing PVC and SDC guidelines will continue to apply. 
2. Promo is open to all Filipinos aged 18 years old and above.
3. Participants should be residing in the Philippines.
4. Valid for cash, credit card, PVC points and Petron e-Fuel transactions.
5. Promo is not applicable to PO, bulk, and fleet accounts.
6. Promo is not valid in conjunction with other existing promotional offers.
7. By participating in this Petron promo, all winner(s) and participants grants Petron Corporation permission to use and disclose personal information and photographs in connection with this promotion for marketing purposes and waive any claims to royalty, right, or remuneration for such use on TV, Radio, Petron Website, or Official Petron Corporation social media Pages.
8. Petron reserves the right to refuse awarding of free item to transactions that are invalid and fraudulent such as but not limited to system glitch or collusion.
9. Employees of Petron Corporation, advertising agency and participating stations, including their relatives up to second degree of consanguinity or affinity are disqualified from joining the promo.
DTI Fair Trade Permit No. FTEB-115102 Series of 2021