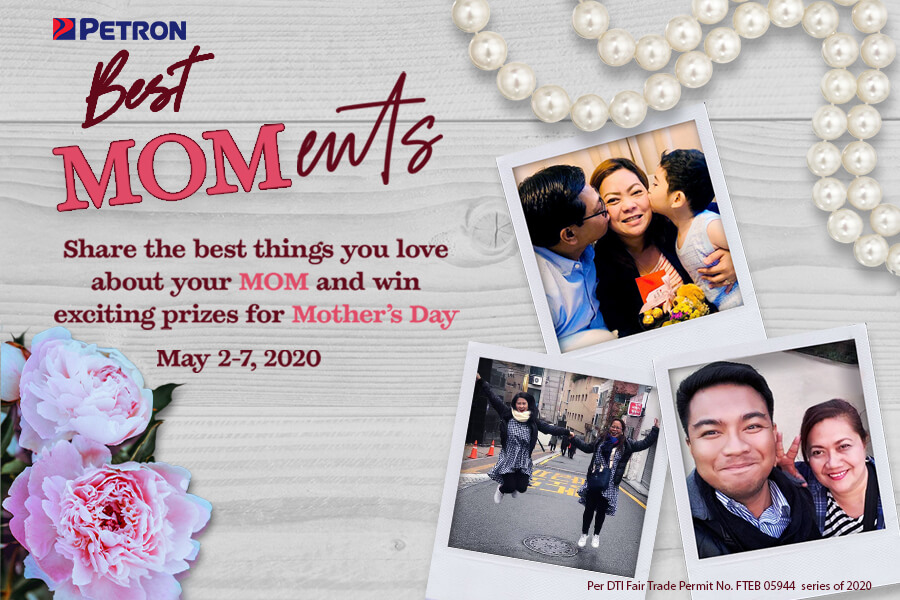 Promo Mechanics: 
Participants get a chance to win a special gift package from Petron by sending a photo with their mother and share the best things they love about her.

Format accepted: .JPEG / .JPG / .PNG
Size: Maximum 2MB

This promo is open to all Filipinos aged 18 years old and above. Participant should be residing in the Philippines.
Participant must register their complete name, complete address, contact number, email address, birthday, PVC number (optional) and complete name of mother.
Participant must upload the photo with their mother with a caption and choose a gift package for his/her mother using the link: https://onlinepromo.petron.com/
Winners get to win either an e-Fuel Card worth P3,500 or Gasul set (2-burner gas stove and 11-kg. Petron Gasul LPG with refill) worth P3,500.
Open for PVC and Non-PVC users
After registration, participant will receive an email confirmation including raffle entry reference number.
Petron will randomly pick 10 winners via e-raffle on May 8, 2020 at 10:00AM
Deadline of entries and announcement of winners as follows:
Start of Entry Submission: 00:01 AM May 2, 2020
Deadline of Entry Submission:  11:59 PM May 7, 2020
Selection of Winners: 10:00 AM May 8, 2020 at Petron Head Office
Announcement of Winners: 8:00 AM May 10, 2020
Entries sent after the cut-off date and time will not be included in the e-raffle.
Participants can only win once.
Photo with caption of the winners will be posted in Petron social media accounts.
Participants are only allowed up to one (1) entry per email address.
Winners will be notified via phone call and registered mail.
Email confirmation of entry and valid Government ID shall be sent by the winner through email within 60 days to promotionsTMPD@petron.com.
Prizes in the form of e-Fuel card worth P3,500 or Gasul set (2-burner gas stove and 11-kg. Petron Gasul LPG with refill) voucher worth P3,500 will be sent via registered mail after lifting of Enhance Community Quarantine.
Prize is transferable and not convertible to cash.
Unclaimed prizes until 60 days from receipt of notification will be forfeited by Petron with prior approval from DTI.
Employees of Petron, their advertising agencies and participating stations including relatives up to second degree of consanguinity or affinity are disqualified from joining the promotion.
#BestMOMents #KasabaySaLakbay
Per DTI Fair Trade Permit No. FTEB 05944 Series of 2020