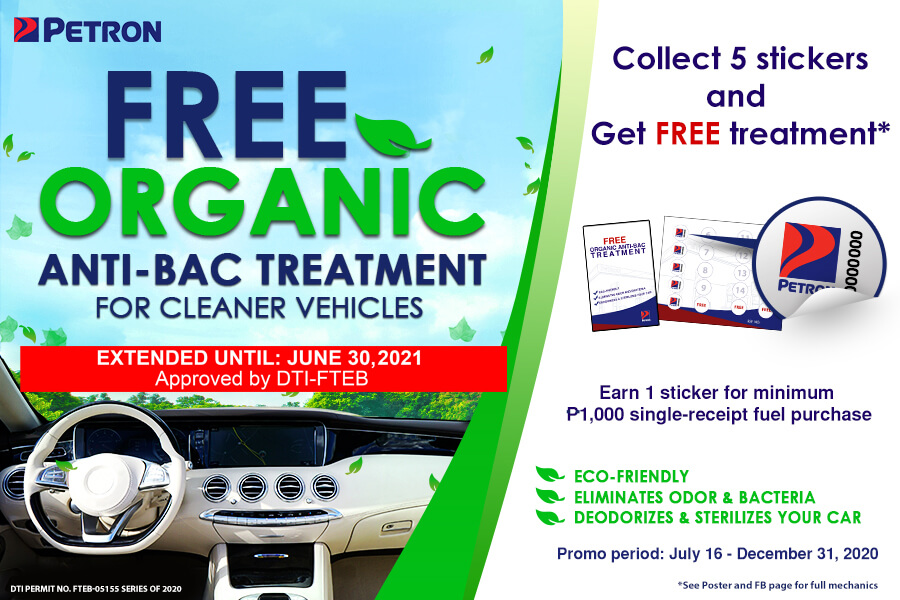 Gas up five times, and your organic anti-bac car treatment's on us! It also comes free for those availing of change oil services. This offer is valid at participating Petron stations in Metro Manila from July 16, 2020-June 30, 2021.
Learn more by reading the promo mechanics below:
PROMO MECHANICS:
1. Customers can avail the Free Organic Antibac Treatment Frequency Card on their first purchase of any Petron Fuels worth P1,000.
2. Customers must accumulate five (5) stickers to get a Free Anti-bacterial Car Fogging Treatment.
3. One sticker is awarded for a minimum P1,000 single-receipt purchase of any Petron Gasoline or Diesel fuels.
4. Promo is station specific. Sticker earning and redemption is valid only in registered service station indicated in the frequency card.
5. Promo duration is from July 16, 2020 to June 30, 2021.
6. One frequency card per vehicle only. A combination of two (2) or more cards is not allowed.
7. Customers need to present the card with five (5) stickers to avail the free treatment. Redemption is only valid to the registered vehicle on the frequency card, and is valid until 60 days after the promo period.
8. Once all twenty (20) stickers are collected, the customer must surrender the Frequency Card to the station.
9. Customers availing the complete change oil package in the participating stations are eligible to get the Free Anti-Bacterial Car Fogging Treatment.
10. Promo is valid in participating stations in Metro Manila only. For list of participating stations, click HERE.
11. Promo is not valid for PO/ Bulk/ Fleet Customers.
12. Only PVC/PMiles/SDC holders are eligible to join the promo.
13. Promo is not valid in conjunction with other existing promotional offers.
14. Employees of Petron Corporation, Advertising Agency, and Participating Stations, including their relatives up to second degree of consanguinity or affinity are disqualified from joining the promo.
Per DTI Fair Trade Permit No. FTEB-05155 Series of 2020.