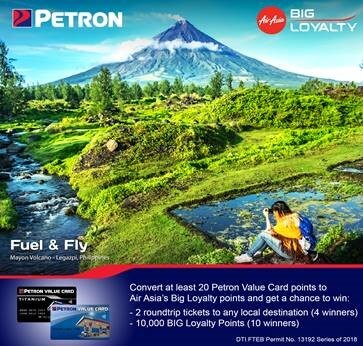 AirAsia Fuel Your Life Promo Mechanics:
Promo Period- November 7, 2018 – February 6, 2019.
Petron Loyalty Cardholders who convert their points to AirAsia BIG Points (minimum conversion of 20 PVC points) will earn an e-raffle entry for a chance to win the following prizes:
            a.Four (4) winners of two (2) roundtrip AirAsia tickets to any local destination
            b.Ten (10) winners of 10,000 BIG points
To convert, registered cardholder must send an SMS using the following format:
            REDEEM<space>16digit Petron Card#<space>AMOUNT<space>AirAsia BIG card
           Ex. REDEEM 782820467961XXXX 50 999999000361XXXX
           Send to: 8933
 Member will automatically receive an SMS confirming successful redemption and earned raffle entry.  Members may check their points balance when they log in to www.airasiabig.com.
Redemption of the roundtrip tickets is until 60 days from receipt of registered notice, otherwise prize will be forfeited with prior approval of DTI. Travel period is valid within one (1) year upon claiming.
 Standard awarding and conversion mechanics apply. All existing awarding and conversion mechanics are available at www.petron.com and www.airasiabig.com.
 Employees of Petron Corporation, Think BIG Digital Sdn. Bhd., and Share Treats Innovation Corporation,  their advertising agencies, including their relatives up to second degree of consanguinity/affinity are  disqualified from joining the raffle promo but are qualified for the points conversion.